Menu
Posting Jobs and Internships   ➔
Career & Leadership Development (CLD) seeks to connect your organization and opportunities with a diverse and talented pool of candidates from the SF State student and alumni community. Handshake is SF State's online job and internship career platform for our students. Employers can use Handshake to post jobs and internships, as well as register for recruiting events, and sign up for On-Campus Interviewing.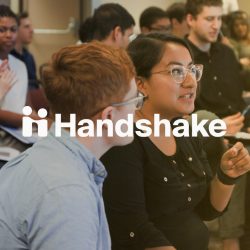 Join the SFSU Handshake today!
Frequently Asked Questions About Handshake:
Go to https://joinhandshake.com and click "Employers" in the top left corner. Then, click "Sign-up for an account" link on the top right corner. Follow the step-by-step instructions provided by Handshake to register.
Under normal circumstances it typically takes 3-5 days to process pending employer approval requests. If your request is not complete in this timeframe, please log into Handshake and check your notifications for any comments on your registration. If you have an urgent need to post a job or internship listing for SF State students, please contact us at recruit@sfsu.edu or (415) 338-1764. 
When you submit your posting, it's added to a queue that includes all of the other pending positions awaiting approval from CLD. Depending on the day and staff availability, our queue may contain a 100+ postings in it. And while we try to review them as quickly as possible (many are cleared within hours of posting), on occasion there is heavy traffic on Handshake, or other internal demands (events, university holidays, etc.) that may contribute to a delay of a few business days. If you have an urgent need to post a job or internship listing for SF State students, please contact us at  recruit@sfsu.edu or (415) 338-1764. 
It's in our students' best interest for us to screen and verify employers and the opportunities they present. We do our best to ensure that each employer registration is legitimate, and that each posting meets our employer policies and guidelines. By giving us the time to do that, we can trust that you are interested in making our mission to ensure that our students' needs are a priority. We reserve the right to decline postings that are not in the best interest of our students.
Many students are interested in earning academic credit during their internship or co-op. For a program to be eligible for academic credit, the employer/organization must work in conjunction with a faculty advisor to fulfill specific requirements established by the student's academic department. Often such a program involves little additional effort on the part of the employer. Consult directly with the Deans' or Chairs' offices of appropriate SF State College departments for more information. Some departments have designated internship advisors. You are encouraged to reach out to your department for the most up to date information on internship advisors. US Department of Labor Internship Programs FLSA 
No, all internships posted with Career and Leadership Development must conform to wage regulations as outlined by the U.S. Dept. of Labor's Fair Labor Standards Act (FLSA). Please review the Wage and Hour Division's six-point unpaid intern test to ensure that your internship program falls within federal standards. 
We suggest employers reach out to student organizations. GatorXperience allows viewers to locate clubs and contacts. And there are hundreds of campus clubs, many of which have a professional focus. It's free for employers to find student groups that may be interested in their organization. 
This service is reserved only for a select number of employers and requires employers reach out directly to  recruit@sfsu.edu for a more in-depth discussion. Career and Leadership Development receives hundreds of postings and we strive to make sure that we're not "spamming" our students. Rather than sending a message through CLD's employer engagement team, employers can target specific student organizations using GatorXperience.