Why Recruit at San Francisco State University?
San Francisco State University (SF State) is a major public urban university, situated in one of the world's great cities. In 2016, SF State was designated by the U.S. Department of Education as a Hispanic Serving Institution (HSI). HSIs are defined under the Higher Education Act as colleges or universities where at least 25 percent of the undergraduate, full-time enrollment is Hispanic, and at least half of the institution's degree-seeking students are low-income.
Inspired by their diverse communities and intersectionality's, our students are resilient, compassionate, and courageous change-makers who strive to break down traditional boundaries. With unwavering commitment to social justice that is central to the work of the University, SF State prides itself on equipping students to meet the challenges of the 21st century.
Career & Leadership Development (CLD) offers employers and organizations who wish to recruit and retain SF State students and alumni  various opportunities to interact with them face-to-face and virtually. Promote your organization and career opportunities to students via Handshake, build brand awareness on-campus by speaking at Employer Table Talks, and cultivate relationships by attending CLD's annual fairs & events.

Complimentary Services
The following options are offered free of charge to assist you with your recruiting goals:
Career & Leadership Development (CLD) seeks to connect your organization and opportunities with a diverse and talented pool of candidates from the SF State student and alumni community. Handshake is SF State's FREE online job and internship career platform for our students. To learn how to post jobs and internships to Handshake, visit https://career.sfsu.edu/posting-jobs-and-internships.
The On-Campus Interview Program (OCI) gives employers the opportunity to interview SF State students and recent graduates in our interview rooms for internship or full-time positions on-campus. To learn how to schedule on-campus interviews, visit https://career.sfsu.edu/host-campus-interviews.  
Promote your organization and career opportunities to students alongside three other employers. Each employer has approximately 15-minutes to present during the hour. To participate, employers must have a paid job or internship available within the next six months.  
Held the week prior to the largest career fairs of the semester, the All Majors Resume Café is an opportunity for employers to connect and advise potential candidates. Advise students on resumes and career fair etiquette in 10 – 20 minute conversations.  
Facilitate an educational workshop to help students navigate the recruitment process while also promoting and developing your employer brand on campus. Workshops can be hosted throughout the semester both in-person and virtually. Topics can range from teaching students how to negotiate salary to navigating Applicant Tracking Systems.  
Fee Based Services
These offerings are a great way to boost your recruitment efforts and engage with students on a larger, more concentrated scale. Fees do apply.
Throughout the semester, local employers can visit campus to recruit students for internships, part-time and full-time positions. There is a $50 fee for employers to table at SF State, and due to high demand, each employer/organization is limited to one Tuesday Tabling per semester. 
Fairs are a great way for employers to meet talented and career-ready SF State students. Our annual fairs provide employers with the opportunity to recruit students for part-time, full-time, and internship positions. Prices may vary on industry and fair type. 
CLD is dedicated to cultivating events that allows you to meet and network with prospective SF State candidates in an intimate setting to share information about your organization, culture, and industry. Our staff will work with your company or organization to coordinate a tailored event on-campus.
Create a Handshake Account
Handshake is SF State's primary job posting board for students and alumni. Employers can post available jobs, internships, and volunteer opportunities on Handshake.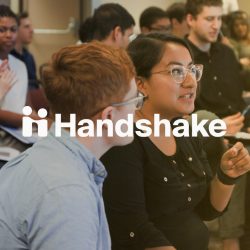 Join the SFSU Handshake today!
Complete all required fields and agree to the Handshake Employer Guidelines.   

Join your existing company on Handshake, or create a new one by clicking the blue button that says "Create New Company" and request to connect with San Francisco State University.  

Allow 3-5 business days for your company to be approved. Once approved, you'll be able to post jobs, manage applicants, and more.   

Businesses are only approved if they are licensed to do business and hold insurance. Please use your business address when creating your account.

 
Recruiting Policies & Guidelines
To ensure the quality of our service and to limit the risk to SF State students and alumni, CLD has policies and guidelines for all employer recruiting activities permitted by our office. Please read more on our Policies & Guidelines page or inquire with us at recruit@sfsu.edu. 
Questions? Contact recruit@sfsu.edu or fill out our Employer Engagement Form.