Menu
Jobs (On & Off Campus) / Internships   ➔
Graduate Students (Coming Soon)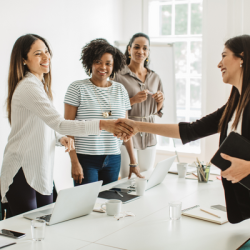 HOT Jobs!
These employers are hiring now!
Click the button below to check new openings:
On-Campus Jobs
Securing an on-campus job is a great way to build work experience while attending school. In addition to the experience you will gain while being in school, on-campus roles can help you financially and professionally. There are multiple employment opportunities available for SF State students all over campus. While most on-campus positions are posted on Handshake, keep an eye out for jobs posted physically on bulletin boards around campus or talk to specific departments.
For student employment opportunities, check out these resources below:
Student Assistants: This on-campus work program offers students the chance to explore and develop career related skills and gain professional experience. Anyone who is registered as a student at SF State and is in good academic standing may be eligible to work as a Student Assistant.

Instructional Student Assistants / Graduate Assistants / Teaching Associates: Instructional Student Assistants (ISA), Graduate Assistants (GA), and Teaching Associates (TA) assist professors with research, teaching, facilitating group discussions, grading papers, and tutoring.

Associated Students: Variety of positions available

Campus Recreation: Variety of positions available

J. Paul Leonard Library: Variety of positions available

New Student Orientation Leaders: Lead summer orientations for new students

Resident Advisors: Develop residential communities for on-campus students

Peer Tutoring: Tutor or mentor your peers both in and outside of the classroom

Writing Center: Help students on a variety of writing assignments
Federal Work-Study is a federally funded financial aid program. It increases available part-time employment for students who need financial assistance while giving them the opportunity to gain practical work experience. Those who wish to work in the work-study program must be approved by the Financial Aid Office prior to being hired. For more information, please contact the Financial Aid Office.
It is possible for international students who are visiting on an F-1 or J-1 visa to work on campus. International students can work no more than 20 hours a week during the school year and 40 hours a week during the winter, spring and summer breaks. To apply for an on-campus job international students should go through the regular hiring process.  
F-1 and J-1 students should follow the "Applying for On-Campus Employment" instructions posted at http://oip.sfsu.edu/ocec. 
For those looking for OPT jobs check out the site below: My Visa Jobs 
Search for an On-Campus Job using Handshake:
Another resource may be friends who may already be working on campus. They may be able to help you learn about jobs in the departments/offices where they presently work. 
You may also look on department websites to find on-campus jobs. 
Please note that inclusion on the above list does not mean that the offices are currently hiring students, only that they have previously hired students for part-time positions. 
Once you receive a job offer from a campus department you must complete the I-9 process.
***STUDENTS MAY NOT BEGIN WORK UNTIL AFTER the I-9 Verification has been completed AND the completed Student Hiring Packet has been submitted to Human Resources through DocuSign.*** 
Your I-9 documents can be verified in-person only: 
Students should request an appointment for I-9 verification via email (Student_i-9@sfsu.edu) from their SFSU Email address to request an appointment for I-9 Verification – they must include first and last name, student ID number, SFSU Email address, date of birth, hiring department, and desired start date. The student will be sent a link to set up their Tracker I-9 account before they bring their documents to show in-person at the SFSU Parking & Transportation Office. 
US Customs and Immigration Services list of acceptable documents. 
If a student has already completed an I-9 verification because they have worked with a University employer before, and the student's service indicator in Student Center shows their I-9 Verification is current, they DO NOT need to complete a new I-9 verification. Students who might need to complete a NEW I-9 verification include International Students, Permanent Residents and those with an Employment Authorization card depending on their respective end dates which can be found listed in their Student Center.  
International Students in F-1 and J-1 Visa Status 
F-1 and J-1 students should follow the "Applying for On-Campus Employment" instructions posted at http://oip.sfsu.edu/ocec. 
Required Forms that must be completed (you will be sent these in DocuSign) 
Getting Paid 
Internships 
An internship is a valuable, on-site work experience directly related to your career interests and major field of study. It allows you learn about the demands and requirements of a profession and industry under the direction of intentional learning goals. An internship can be paid, un-paid, or taken for academic credit, and can take place during the academic semester or in the summer.
You can gain practical experience and develop marketable job skills in your chosen career field

It helps you to clarify your personal career goals and work-place preferences

You can interact with qualified and experienced professionals in your field

It allows you to apply skills and knowledge learned in the classroom to on-the-job experiences

You can make important contacts in the professional world that may lead to future job offers
Academic internships allow you to earn academic credit while gaining work experience through community engagement.  Through community engagement the university works collaboratively with community-based organizations to address issues important to the well-being and lives of community members, the outcomes of which benefit the common good and create positive systemic change. 
These internships require tuition payment in the same way as with other academic courses.  They are an effective way for you to gain work experience in your field of study before graduation. Visit the Institute for Civic and Community Engagement website to learn more.
International students with F-1 visa status must be authorized by the Office of International Programs (OIP) and complete the Curricular Practical Training (CPT) in order to participate in an academic internship. Other non-immigrant visa holders (i.e. H-4, J-2, etc.) must adhere to their visa regulations. 
Job searching isn't easy. National statistics report that it can take up to 6 months for new graduates to find a job. Review the resources below and schedule an appointment with a career counselor to help you along in the process. 
Job Search Checklist  
Make a list of the types of positions and organizations that interest you, and the skills needed for that type of work 
Determine your preferred geographic location—try to narrow it down to no more than 3 places 
Ask a minimum of three people (e.g., supervisors, professors) to serve as references 
Update your resume and cover letter and have it critiqued by CLD staff 
Create or update your Handshake account with relevant information and your resume 
Search and apply for jobs online using various online search tools 
Develop a networking statement or elevator pitch—a concise description of your education and work background and your career goals for the near future 
Network with 1) people you already know (friends, family, professors, etc.), and 2) SF State alumni using LinkedIn 
Attend CLD Career Fairs to network with employers and identify job & internship opportunities 
Prepare for interviews using Big Interview, and having your video mock interview critiqued by CLD staff 
Full and Part-Time Jobs
For students or graduates seeking part-time or full-time employment, please check out Handshake for opportunities
In addition, there are there are many job search sites available
If you're interested in jobs that serve the community, why not consider working or a nonprofit?  Research non-profit organizations and find open positions here on